UCLA and The Ashe Center are closely monitoring news of Monkeypox (MPV) in the Los Angeles region, across the state and throughout the world. The World Health Organization recently declared monkeypox a public health emergency of international concern, while Governor Gavin Newsom and Los Angeles County have declared a state of emergency to increase access to public health resources. In addition, a federal announcement followed declaring MPV a public health emergency. The health and safety of our community is our top priority and we urge all Bruins to stay informed and remain vigilant in protecting themselves and others from this virus.
We will keep this page updated as more resources and information become available – particularly regarding testing and vaccine access. Appointments to discuss concerns regarding MPV are available now at The Ashe Center, and testing is available when appropriate.
What is Monkeypox (MPV)?
Monkeypox (MPV) is a rare disease that is caused by infection with the monkeypox virus. Monkeypox virus belongs to the Orthopoxvirus genus which includes Variola (smallpox) and other pox viruses generally limited to animals. First identified in humans in 1970, monkeypox has similarities to the smallpox virus, but is less transmissible and usually far less severe than smallpox. Deaths during the current outbreak are estimated to be very low.
MPV is currently of public health concern because while sporadic cases have popped up in the past, associated with residence or travel in endemic areas, its emergence in non-endemic areas and transmission human-human is new.
There is a recent significant increase in reported cases where monkeypox is not commonly seen, including in Europe, Canada, the United States, and California. While it's important to stay alert about any emerging public health outbreaks, the current risk of getting monkeypox in the general public is very low.
What are the symptoms of MPV?
Symptoms of MPV can appear anywhere from 5-21 days after exposure. Symptoms of MPV typically include fever, headache, muscle aches, back pain, exhaustion, swollen lymph nodes and a skin rash or lesions which usually develop 1-3 days after the appearance of fever. The lesions can present anywhere on the body including the face, hands, feet, mouth and genitalia. The sores will go through several stages, including scabs, before healing. They can look like pimples or blisters and may be painful and itchy. The associate rash/lesion can be confused with other diseases such as syphilis, herpes, chancroid, chicken pox, and shingles. Over the course of two weeks, the rash scabs over and resolves but can leave scars.
People with MPV may experience all or only a few of these symptoms. Most with MPV will develop rash or sores. Some people have reported developing a rash or sores before (or without) the flu-like symptoms. MPV can spread from the time symptoms start until all sores have healed and a fresh layer of skin has formed. This can take several weeks.
What should you do if you believe you've contracted MPV?
If you develop a rash accompanied by fever, you should contact your health care provider and isolate yourself. Isolation is recommended if you have symptoms or a known exposure. If your health care provider suspects monkeypox, a sample of the rash or lesion will be gathered and tested by PCR. If monkeypox is confirmed, continue to isolate until the lesion scabs have fallen off and a healthy layer of skin has formed.
How is MPV transmitted?
Monkeypox (MPV) spreads primarily through direct contact with infectious sores, scabs, or body fluids, including during sex, as well as activities like kissing, hugging, massaging, and cuddling. Monkeypox can spread through touching materials used by a person with monkeypox that hasn't been cleaned, such as clothing and bedding. It can also spread by respiratory secretions during prolonged, close, face-to-face contact. The incubation period is usually from 6 to 13 days but can range from 5 to 21 days. Close physical contact with infected persons is the most significant risk factor for contracting the infection.
Individuals with monkeypox are infectious while they have symptoms. Steps for self-protection and prevention include avoiding skin to skin contact or prolonged face to face contact with anyone who has symptoms, avoiding contact with contaminated materials such as clothing or bedding, and keeping hands clean with water and soap or alcohol-based hand rub. Being in crowded conditions such as concerts, raves, and other public events might be especially risky during an outbreak of monkeypox.
MPV is NOT spread through:
Casual brief conversations
Walking by someone with monkeypox, like in a grocery store
Preventing MPV
There are number of ways to prevent the spread of monkeypox, including:
Always talk to your sexual partner/s about any recent illness and be aware of new or unexplained sores or rashes on your body or your partner's body, including on the genitals and anus
Avoiding close contact, including sex, with people with symptoms like sores or rashes
Practicing good hand hygiene
People who become infected should isolate themselves until their symptoms are improving or have gone away completely. The rash should always be well covered until completely healed.
Using appropriate personal protective equipment (PPE) (like a mask, gown, and gloves) when caring for others with symptoms
Avoiding contact with infected materials contaminated with the virus
Avoiding contact with infected animals
This informational video is produced by KFF (Kaiser Family Foundation). For more information, visit https://www.greaterthan.org/monkeypox/ (available in English and Spanish).
Pets and MPV
Infected animals can spread monkeypox to people, and people who are infected can spread monkeypox to animals through close contact, including petting, cuddling, hugging, kissing, licking, sharing sleeping areas, and sharing food.
People with monkeypox should avoid contact with animals, including pets, domestic animals, and wildlife to prevent spreading the virus. Someone with monkeypox should ask another household member or outside friend/family member to care for pets until the person with monkeypox is fully recovered.
More information about MPV and pets:
MPV Misconceptions & Combating Stigma
Is MPV a sexually transmitted infection (STI)?
No, there is no evidence that monkeypox is sexually transmitted.
However, the act of sex itself is a common form of direct contact involving skin-to-skin contact. In addition, transmission can also occur through saliva and respiratory droplets – both opportunities that can arise during sex. Anyone who has close physical contact with an infected individual could be at risk for infection. If symptoms arise and you suspect it may be monkeypox, please contact your health care provider.
'This is not a gay disease': WHO expert weighs in on monkeypox stigma | USA TODAY
Are men who have sex with men (MSM) at higher risk for contracting the MPV virus?
No. If exposed, anyone can get monkeypox. Monkeypox is spread through:
direct contact with an infectious rash, scabs, or body fluids
respiratory secretions during prolonged, face-to-face contact, or during intimate physical contact, such as kissing, cuddling, or sex
touching objects, fabrics (such as clothing or linens) that previously touched the rash or body fluids of someone with monkeypox
being scratched or bitten by an infected animal
Although the recent outbreaks in Europe and North America have occurred among gay and bisexual men, this is likely a result of coincidental contact with infected people at one or more recent crowded LGBTQ-focused events resulting in a cluster of cases within the community.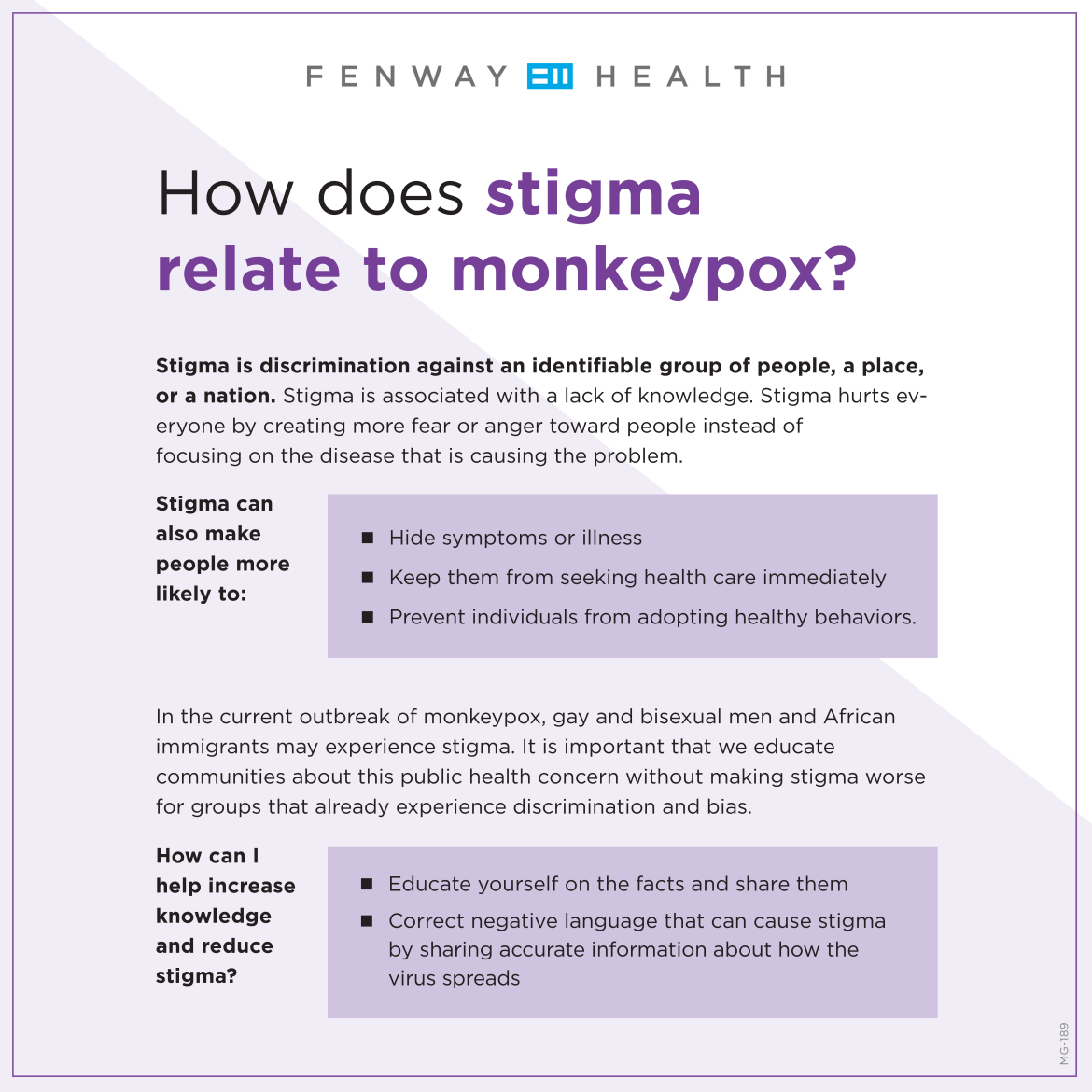 Good public health discourages singling out men who have sex with men (MSM) as this may cause providers to miss monkeypox in other communities, especially where other large, crowded events occur.
How is UCLA preparing?
Ashe Center providers and staff have been trained in identifying monkeypox, and our laboratory is prepared to collect and send samples for testing. We are currently working to acquire vaccines on campus for students.
Additionally:
UCLA is working with LACDPH to vaccinate individuals in high-risk populations against monkeypox based on criteria established by LACDPH.
UCLA is educating students and staff on monkeypox.
UCLA Health is providing access to testing and treatment for people infected with monkeypox.
UCLA is developing isolation programs for people infected with monkeypox.
We understand that news of a new infectious disease on top of the last few years of the COVID-19 pandemic can be concerning and result in feelings of anxiety and uncertainty. CAPS is committed to supporting your health, healing, and hope, especially during this challenging time.
​​​​​When The Ashe Center is unavailable: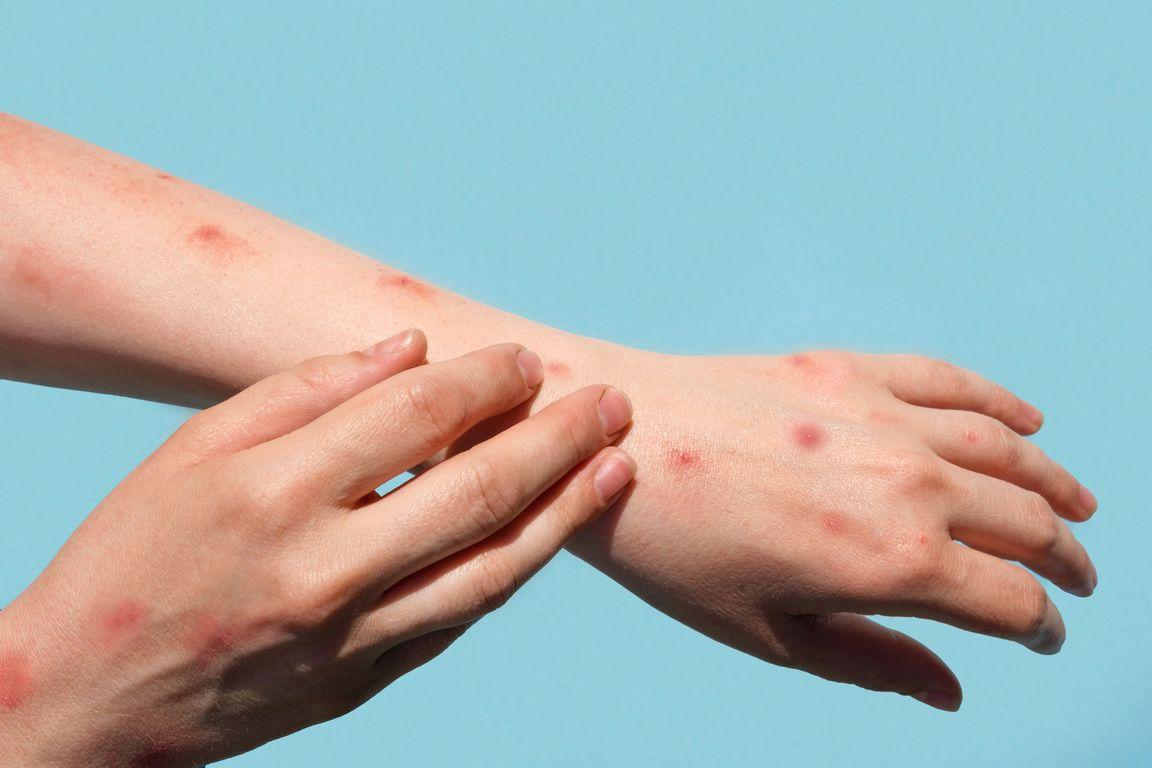 August 3, 2022
UCLA infectious disease doctors say most people who get infected do not require hospitalization and the chance of contracting it remains 'very low.'
MPV Vaccine
JYNNEOS vaccine is administered in two injections in the upper arm at least four weeks apart. Most people who get the JYNNEOS vaccine have only minor reactions, like pain, redness, swelling and itching at the injection site, and less commonly, muscle pain, headache, fatigue (tiredness), nausea, chills and mild fever, and swollen glands. Currently, CDPH recommends that first doses be prioritized in order to reach as many people as possible. Second doses should be prioritized for people who are immunocompromised. Second doses can be offered to others as more doses of JYNNEOS become available.
MPV vaccine is available to gay or bisexual men and transgender persons 18 years of age and older who:
Had multiple or anonymous sex partners in the last 14 days including engaging in survival and/or transactional sex (e.g., sex in exchange for shelter, food and other goods and needs)
Had gonorrhea or early syphilis in the past 12 months
Are on HIV PrEP
Had anonymous sex or sex with multiple partners within the past 21 days in a commercial sex venue or other venue
How do I get vaccinated?
Monkeypox (MPV) vaccine is now available at The Ashe Center by appointment.
More information about Monkeypox (MPV):