The Arthur Ashe Student Health and Wellness Center (The Ashe Center) is devoted to providing quality, accessible, state-of-the-art healthcare and education to support the unique development of UCLA students. (Learn more about The Ashe Center). Need an appointment?
Student Health News & Announcements
Seismic Construction Enters Final Phase
The Ashe Center remains open for patient care during seismic construction occurring May 2023 through January 2024.
Please see the updated floor directory for a full list of departmental changes during our final phase of construction.
Latest COVID-19 Protocols Update
What you need to know:
The Ashe Center masking guidelines have been updated to align with UCLA Health to keep staff and patients safe during respiratory virus season. 

​​​​​Effective 10/4/23, universal masking in direct patient care areas has been reinstated.

Staff, patients and visitors to the Ashe Center must wear a mask in all clinical spaces.

Patients are required to wear masks during their visits, including all waiting areas, exam rooms and spaces where clinical work is performed.

Students who test positive for COVID-19 should isolate immediately and contact the UCLA Exposure Management Team for further guidance.
Ashe Radiology & Lab Walk-in Reminders
Last Appointment Before Lunch Closure
Please note: The last available appointment for Radiology and Lab is 30 minutes prior to the daily lunch closure.
All weekdays, except Wednesday: 12:30 PM
Wednesday: 12 PM
Planned Closures & Hours Updates
Bruin Health Pharmacy Winter Break Advisory
Bruin Health Pharmacy will be closed for winter break from Saturday, December 23, 2023 through Tuesday, January 2, 2024. The pharmacy will have limited hours of operation on Wednesday, December 27 from 10AM to 1PM.  We will reopen on Wednesday January 3, 2024 at 8AM.
See our Holiday Break Reminders site for a comprehensive list of holiday break closures for The Ashe Center and all of our extension services.
Student Health Event Calendar
Masks Required
Universal masking is currently in effect. All students entering the building must wear a mask. Complimentary masks are available at The Ashe Center main entrance.
Get Help Now
If you or anyone you know is experiencing a life threatening situation call 911.
Ashe Student Health & Wellness Center
(24hr Nurse Line) Available AfterHours
When We Are Closed
Counseling & Psychological Services (CAPS)
24hr Crisis Line, Available 24/7
Community Resources
Report Sexual Misconduct 
Make a report of sexual harassment and notice of nondiscrimination
In the News
April 9, 2023
UCLA's Student Health Advisory Committee (SHAC) published this op-ed in The Daily Bruin campus publication.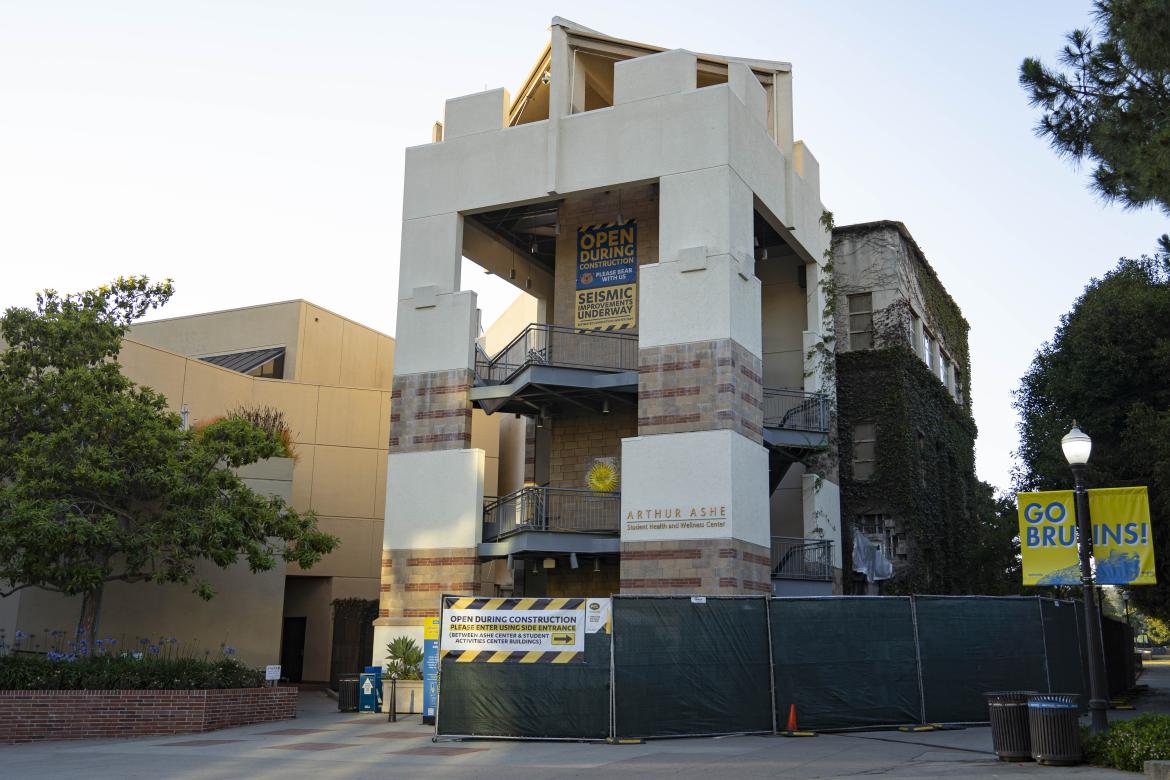 June 28, 2023
The Arthur Ashe Student Health and Wellness Center will undergo seismic reconstruction until January 2024. Construction at The Ashe Center will work to improve seismic resiliency. Other campus buildings, including Powell Library, also began seismic reconstruction earlier this year.
Quick Links
UCSHIP Plan Brochure 2023-24

What is UCSHIP? The UC Student Health Insurance Plan (UCSHIP) is a systemwide health insurance plan providing enhanced benefits to all enrolled UCLA students. Learn more in the Insurance section of our website.



Make an Appointment

Access The Ashe Center Patient Portal to make an appointment, message your primary care provider (PCP), and more.

Submit Patient Feedback

The Ashe Center wants feedback on your patient experience. Your feedback can be anonymous or you can include your personal information on our secure survey site to give us the opportunity to respond to you, personally.