When The Ashe Center is closed, you still have access to care -- both online, and in the local community using your UCSHIP benefits. Our 24/7 Nurseline is available After Hours, LiveHealth Online offers telemedicine visits online, and The Ashe Center keeps a list of local urgent care centers updated for your convenience.
We realize that getting sick is not always predictable. In the event that you need to seek medical care when The Ashe Center is closed, remember that all currently registered UCLA students have access to various alternatives for urgent access to medical care, including: 24/7 Nurseline, telemedicine visits through LiveHealth Online, local urgent care centers, and in the case of an actual emergency, emergency room access.
24/7 After Hours Nurseline (310-825-4073)
All currently registered UCLA students have access to advice & information from a registered nurse through the After Hours NurseLine at (310) 825-4073. For more information, visit the NurseLine section of our website.
Mental Health Concerns (310-825-0768)
For mental health-related concerns when the Counseling & Psychological Services (CAPS) is closed, you may speak with a CAPS Crisis Clinician by calling (310) 825-0768.
Accessing Urgent Care Centers
In-network Urgent Care visits have a $25 co-payment.
Note: If you go to a non-participating Anthem Blue Cross urgent care center, deductible will be applied and the claim will be covered at 60 percent of the maximum allowed amount. You may be held liable for any amount over the maximum allowed amount.
Urgent Care Centers within 10 Miles of UCLA
For an up-to-date list of urgent care centers within the UCLA area, please download the PDF guide here​.​

Note: The Ashe Center does not promote or endorse any outside provider/facility. We also cannot confirm urgent care holiday hours. We offer this instructional information as courtesy to you. If the Urgent Care Center is closed, you can also seek medical emergency care at the Ronald Reagan Westwood or Santa Monica UCLA Medical Centers. Refer to the insurance page for a summary of urgent care plan benefits.
Uber Health Vouchers ($25 value) are available afterhours on weekends when The Ashe Center is closed.
Note: Uber Health vouchers are for active, registered UCLA students for the sole purpose of seeking healthcare. Any unauthorized or fraudulent use of Uber Health vouchers is monitored by The Ashe Center and those found in violation of this policy may be referred to the UCLA Conduct office.
LiveHealth Online Telemedicine (24/7/365)
Online video appointments (telemedicine) with an Anthem network provider when The Ashe Center is closed.
Your UC SHIP plan makes seeing a doctor easy when The Ashe Center is not available to you (building closures, away from campus, or if you just have a very busy schedule that prevents you from scheduling an in-person appointment).
NEW! LiveHealth Online appointments are $0 for UCSHIP students.
LiveHealth Online provides access to U.S. board-certified doctors 24/7/365 via phone or online video consults for urgent, non-Emergency medical assistance, including the ability to write prescriptions. LiveHealth Online provides behavioral health services as well. If follow up care is required after a consult, the student must obtain a referral from the Ashe Center prior to seeking care outside of the Ashe Center.
In Case of Emergency
Emergency room visits at participating Anthem in-network facilities have a co-payment of $125. If you are admitted, this co-payment will be waived and you will be charged the hospitalization co-insurance rate. Please visit the Plan Highlights for additional breakdown of these fees.

Additionally, the UCLA Emergency Room can be reached directly at (310) 825-2111. Remember that it is important to follow up with your Ashe Center Primary Care Provider (PCP) at least 24-48 hours after being seen in an urgent care facility to ensure continuity of care.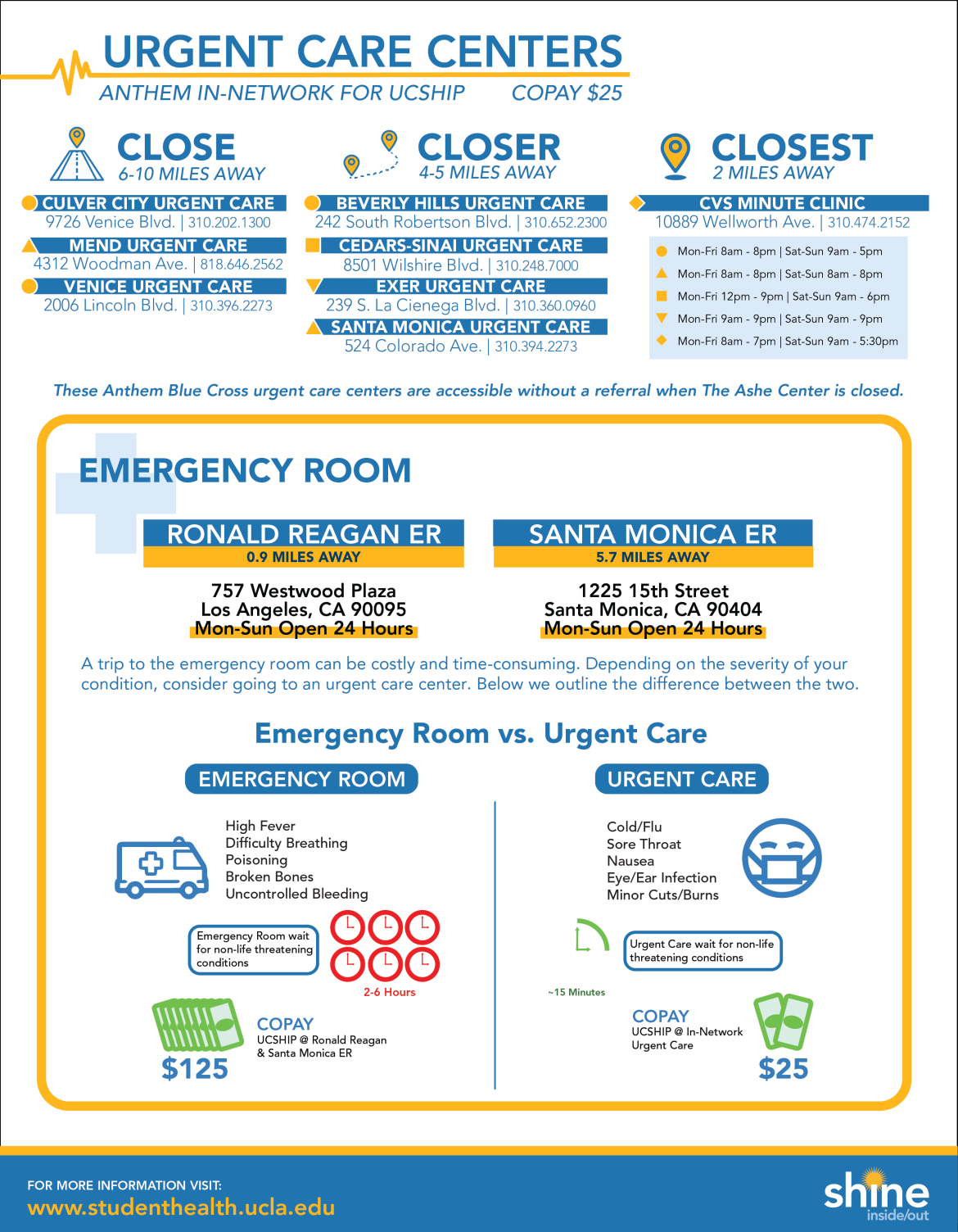 Uber Health Weekend Vouchers
Emergency Room Vs. Urgent Care
A trip to the emergency Room can be costly and time-consuming. Unless you have a life-threatening condition, it is best to go to an Urgent Care center near you. Here is the difference between the two:
Emergency Room
High Fever
Difficulty Breathing
Poisoning
Broken Bones
Uncontrolled Bleeding
Emergency Room wait time for non-life threatening conditions is about 2-6 hours
$125 COPAY
UCSHIP @ Ronald Reagan & Santa Monica ER
Local Emergency Rooms
Ronald Reagan ER (0.9 miles away)
757 Westwood Plaza
Los Angeles, CA 90095
Mon-Sun Open 24 hours
Santa Monica ER (5.7 miles away)
1225 15th Street
Santa Monica, CA 90404
Mon-Sun Open 24 Hours
Urgent Care
Cold/Flu
Sore Throat
Nausea
Eye/Ear Infection
Minor Cuts/Burns
Urgent Care wait time for non-life threatening conditions is about 15 Minutes
$25 COPAY
UCSHIP @ In-Network Urgent Care
Are you outside of the UCLA area?
Please visit the Anthem Blue Cross website and click on "Find a Medical Provider" to locate an Urgent Care Center in your area.
Remember that you and your insurance company will be responsible for the total cost of any care you receive outside of The Ashe Center. It is important to carry your UC SHIP Anthem Blue Cross insurance card with you.