Breast and gynecologic exams (Pap smears), birth control advice, pregnancy testing and counseling, screening for STIs, medication abortion, and diagnosis of gynecological disorders.
Range of Services
Services offered include:
Comprehensive gynecologic exams
Pap smears for cervical cancer screening
Screening for Sexually Transmitted Infections (STI)
Contraceptive counseling and prescriptions
Long-acting reversible contraception: Insertion of Intrauterine Devices (IUD) or Arm Implant
Pregnancy options counseling
Medication abortion services
Endocrine problems, abnormal pap smears, breast lumps, chronic pelvic pain, and other complex gynecological health problems
Scheduling
Appointments: Patient Login or (310) 825-4073
Fees
See the Fees page for a detailed, centralized fees listing.
Medication Abortion
Our university firmly supports the ability of individuals to access necessary health care services and make decisions about their own care in consultation with their medical teams.
At The Arthur Ashe Student Health and Wellness Center, we provide students with comprehensive access to reproductive health services. We are committed to continuing to do so, and have resources available to meet the demand of our community.
Students seeking reproductive services, including pregnancy testing, birth control, emergency contraception and consultation on the option of abortion, are encouraged to visit The Ashe Center Patient Portal to schedule or call (310) 825-4073 for a consultation with a medical provider.
In partnership with UCLA Health, medication abortion services are now available at The Ashe Center for pregnancies up to 70 days (10 weeks).

Please expect to schedule three telehealth visits.
Medication Abortion Steps
Log into The Ashe Center Patient Portal and choose the Appointment option called "Abortion Care" under Online Services.
An Ashe Center Nurse will contact you to review your questionnaire and discuss options.
If you are eligible for a no test telehealth medication abortion, you will have a telehealth appointment through the Ashe Center.
During your appointment, the Nurse will coordinate a time for you to come in person to the Ashe Center to pick up your first medication (Mifepristone).
The second medication, called misoprostol, will be sent to a pharmacy of your choice.
Two follow-up telehealth appointments will be required:

The first follow-up will be 1-2 weeks after the mifepristone
The second follow-up will be 4 weeks after the mifepristone
You will be guided through this process by our staff and clinicians with detailed instructions.
Medication Abortion Resources & Support
For some people, it can be difficult to choose whether to have an abortion or to consider their options upon becoming pregnant. Additionally, for people who have made the decision to end a pregnancy, there may be a wide range of emotional reactions that arise at different points during or after their medical care.
UCLA Counseling & Psychological Services (CAPS) is available to support students' emotional and mental health and can assist you if you would like to speak to a professional clinician about your experiences. CAPS is available by phone 24 hours per day at 310-825-0768.
To start the process of connecting to CAPS services, please schedule a same day telephone triage Mon-Fri between 9AM and 3PM.
Phone: 1-888-493-0092
Hours: Monday through Friday, 7 am – 10 pm
Saturday through Sunday, 7 am – 3 pm
Website: https://www.all-options.org/
Services: Provides confidential and judgment-free support to callers at any point before, during, or after an experience with pregnancy, parenting, abortion, or adoption.
Languages spoken by counselors: English, Spanish
Phone: 1-866-647-1764
Hours: Tues 3pm-6pm, Thurs 3pm-6pm, Sat 7am-11am
Website: https://www.connectandbreathe.org/
Services: Provides a talk-line staffed by people trained to listen and help you find peace. They can help by just listening or by providing resources in your area that can also help you connect with your decision in a way that affirms you.
Phone: 1-617-749-2948
Hours: Mon-Fri, 12-6pm; Sat 11 AM- 6PM, Sun 12-4pm
Website: https://exhaleprovoice.org/
Services: Exhale offers a free textline that provides emotional support, resources, and information. All calls are completely confidential and counselors offer support and respect without judgment.
Languages spoken by counselors: English, Spanish, Cantonese, Mandarin, Vietnamese
Phone: 1-888-717-5010
Website: http://www.faithaloud.org/
Services: Faith Aloud offers free counseling by phone. Counselors are clergy and specially trained religious counselors (Roman Catholic, Jewish, Muslim, Unitarian-Universalist, Protestant Christian, and Buddhist) and want to offer an opportunity for candid dialogue about your abortion experience and provide the support you need to move forward with strength and confidence. Persons of no particular religious faith are welcome to call. Languages spoken by counselors: English, Spanish (varies by counselor)
The Pregnancy Options Workbook

This website includes helpful exercises to work through pregnancy decisions.
Additional Services:
Free Menstrual Hygiene Products
The Ashe Center, in partnership with Student Wellness Commission, now provides students with free menstrual hygiene products all year long. Pads and tampons are located in two areas on each clinical floor of The Ashe Center (Floors 1-3), in dispensers located near the restrooms and on the clinic station counters. Please feel free to stop in for these products whenever needed.
Vending Machine Access to Birth Control
ASUCLA, Student Health Education & Promotion, and the Arthur Ashe Student Health and Wellness Center have partnered with UCLA Vending Services to install a special vending machine in Ackerman A-Level: The main goal of the machine is to offer students with cheaper, more convenient access to birth control products, in addition to providing educational materials on sexual health and campus resources.
UCLA Health Study Recruitment
Researchers at UCLA Health are exploring where and from whom adolescent patients prefer to learn about their reproductive health.
The research team is interested in administering a quick survey and appreciates your consideration in being part of this UCLA Health study. Your participation is completely voluntary and confidential.
Note: If you have any questions, comments or concerns about the study, please contact the Research Coordinator at familyplanning@mednet.ucla.edu
Location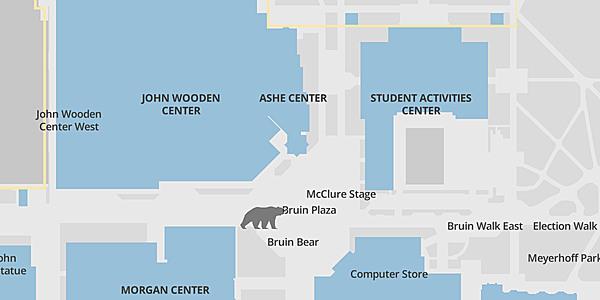 What to Bring
BruinCard
Complete the Clinical Questionnaire
Arrive 15 minutes before your appointment time
Plan for your visit to take one hour
There is a $20 fee for missed appointments and late cancellation (less than 24 hours before appointment time)