Counseling and Psychological Services (CAPS) supports your mental health needs as you pursue your academic goals. Their services are designed to foster the development of healthy well-being needs.
UCLA Counseling & Psychological Services (CAPS)
Counseling and Psychological Services (CAPS) is a multidisciplinary student mental health center for the UCLA campus. CAPS supports the academic and student development missions of the University and the Division of Student Affairs.
CAPS offers a variety of services to meet your needs including:
Crisis counseling available by phone 24 hours a day/7 days a week
Emergency intervention
Individual counseling and psychotherapy
Group therapy
Psychiatric evaluation and treatment
Psychoeducational programs and workshops for students, staff and faculty
Campus mental health and wellness promotion
CAPS is committed to promoting inclusion and the affirmation of individual and cultural diversity. Our services and training foster the development of healthy behaviors necessary for success in a complex global environment.
Introducing LyraHealth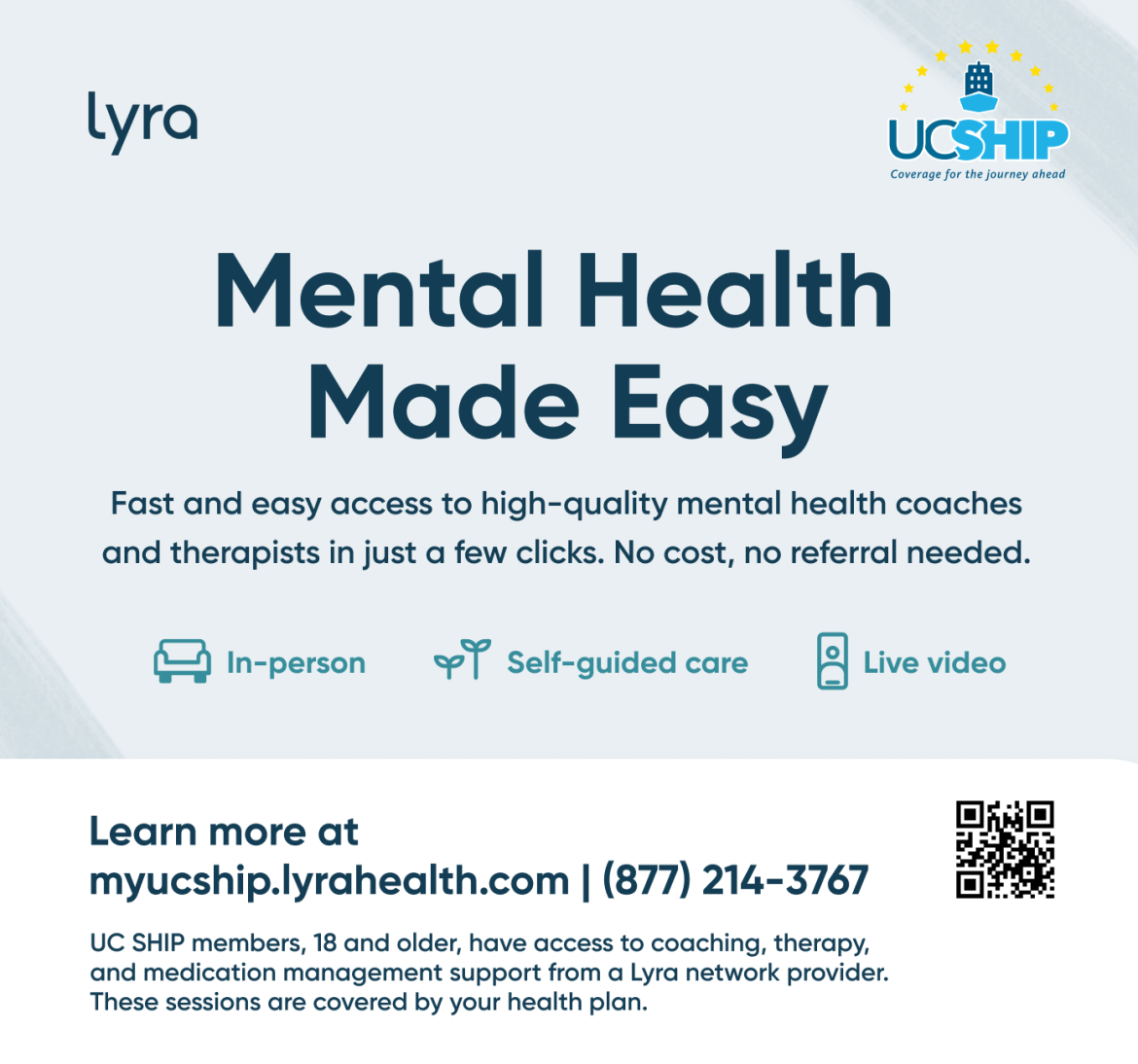 Scheduling
Appointments: (310) 825-0768
Hours
See CAPS website for current hours of operation.
Location
UCLA Counseling Center (CAPS)
John Wooden Center West
221 Westwood Plaza (Bruin Plaza), Los Angeles, CA 90095
Parking Structure 4 (P4) is closest to CAPS.Enter from Sunset Blvd. onto Westwood Plaza which leads directly to the underground parking structure. Stop by the parking info booth to purchase a parking permit.
To find CAPS: If you exit the parking structure by the soccer and intramural fields walk towards the fields, down a couple steps and take a left. The entrance to CAPS is the last set of doors before Bruin Walk. If you exit by the Wooden Center gym (i.e. you emerge from the parking structure and see the Bruin Bear to your left), turn right out of the doors and make another right onto Bruin Walk. The entrance to CAPS is directly across from the soccer and intramural fields.
Fees
Patients eligible to be seen are current students, past students of the most previous academic term, and other UC campus students.
UCSHIP
Currently registered UCLA students
Visits
Waived UCSHIP
Currently registered UCLA students who have waived UCSHIP
Visits
BruinCare
Currently registered UCLA students who have waived UCSHIP and bought BruinCare to get unlimited access to core services during the academic year
Visits
Fee for Service
Students from other UC campuses or UCLA students who are not currently registered, such as during summer session or who were registered in a recent term
Visits