How to Swipe your BruinCard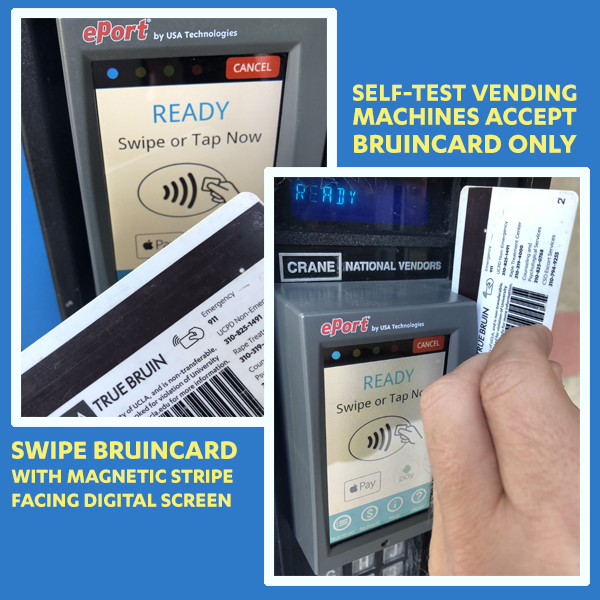 ​​​Step-by-Step Vending Instructions
Self-test vending machines accept only BruinCard. To ensure your BruinCard is active, visit the BruinCard office or log into your account online.
Swipe your BruinCard with the magnetic stripe facing inward, toward the digital screen.
After swiping successfully, the screen will display: $1.00 credit. Select a letter/number combination to vend your test kit (Example: B6).
Take your test kit and clear the vending machine area to ensure other individuals are able to use the machine while you are completing your test kit.
Read and follow the instructions provided in your kit and make sure you register your test kit using the QR code provided.
Once completed, drop your test kit into the collection bin near the vending machine.
Having Issues?
Having issues with your BruinCard? Contact the BruinCard office directly.
Having issues accessing your PCR test results? Contact Swabseq Support via email.
Vending Machine & Collection Bin Locations
PCR tests will remain available to the UCLA community at no charge via Bruincard through vending machines at the following locations:
Ackerman Union, South entrance, UCLA Bookstore
Haines Hall, West entrance
Pauley Pavilion, North side, adjacent to Bruin Walk
Neuroscience Building, West entrance
Self-Testing for COVID-19
Self-Testing Using New Vending Machines on Campus
Any student, staff, faculty or approved non-affiliates with an active BruinCard can receive up to two self-test kits each week using the vending machines available on campus. BruinCards automatically receive a weekly credit to be used to purchase COVID-19 tests from these dedicated machines. Credits will not be valid at any other vending machines or for any other use. 
Important Items to Remember
Self-test vending machines accept only BruinCard.

Free testing is available only for faculty, staff, students, and approved non-affiliates.

A smart device (phone, iPad) with the ability to receive SMS text messages is required to use the self-test vending option.
After a Positive Test
Note: Staff/Faculty should consult with UCLA Occupational Health for guidance at (310)-825-6771.
Self-Test Process and What to Expect
Once a test sample has been completed, it may be deposited in any of the marked collection bins, which are located adjacent to the vending machines.

Test samples should be deposited within one hour of taking the test in order to maintain proper temperature.

Individuals depositing test samples before 11 a.m. can expect results within 24-36 hours, while those depositing samples after 11 a.m. can expect results within 48 hours.

Any samples submitted 7 days or more after the test kit has been registered will be canceled by the laboratory.
Additional Processing Time
Please be aware that a small percentage of samples may require re-testing during processing, resulting in a delay of (1) additional business day before results are returned. Participants can be assured we continue to work with our lab partners to deliver test results as quickly as possible to our Bruin community.
Important Note(s) on Specimen Dropoff
Specimens dropped off after 11am may not get collected and processed until the next business day.
Samples dropped off on Friday after 11am may not be resulted until Monday evening. 
How to Self Test Using a Saliva-Based Test
Steps 1-5: Preparing for your sample
Read all printed instructions included in your COVID test kit thoroughly and completely before proceeding.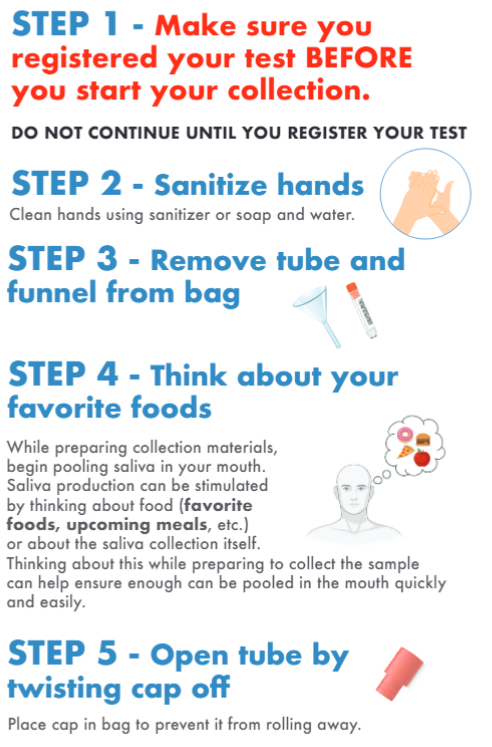 Steps 6-10: Collecting and returning your sample
STEP 10 - Return your sample to a designated collection bin
Collection bins are located near every vending machine. See the interactive map above for more information.