If you are experiencing symptoms consistent with COVID-19 or have had close contact with someone who was diagnosed with the virus, call our COVID-19 Hotline at (310) 206-6217 to speak with an Ashe Center clinical provider.

​​​​The Ashe Center clinical provider will help you determine the need for testing, treatment, quarantine, and/or isolation. Please self-isolate until after you have spoken with someone from The Ashe Center.
Students who develop symptoms including fever, cough, or shortness of breath, should contact The Ashe Center immediately at (310) 206-6217 to determine the need for diagnostic testing and treatment. Please self-isolate, until after you have spoken with someone from The Ashe Center.
The Ashe Center COVID-19 Hotline is available seven days a week, including weekends (except holidays). We will return your call within (1) hour between 8am-4:30pm. Messages left after 4:30pm will be returned by 9am the next day.
Scheduling
When Calling the COVID-19 Hotline:
Please speak loud and clearly, and be sure to include your full name, UID number, and a callback number where we can reach you.
A member of our staff will call you back as soon as possible to collect information about your symptoms, such as duration of symptoms and temperature.
Please try to be near your phone and ready to respond.
Note: We can only provide general information to parents and families. Students with COVID-19 concerns must call directly to discuss their protected health information.
Hours
Mon - Thurs: 8am - 4:30pm
Fri: 9am - 4:30pm
Weekends: 8am - 4:30pm
Location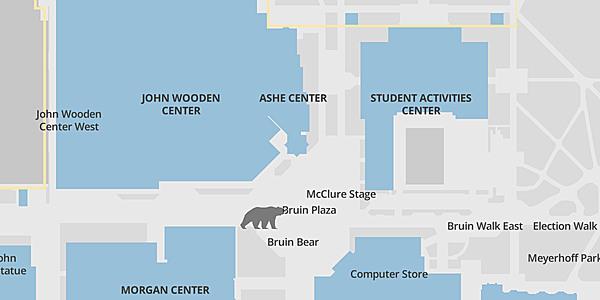 Fees
Patients eligible to be seen are current students, past students of the most previous academic term, and other UC campus students.
UCSHIP
Currently registered UCLA students
Laboratory Tests
COVID Antibody Testing $47
COVID PCR - Medically Necessary $0
COVID PCR - Not Medically Necessary $0
Waived UCSHIP
Currently registered UCLA students who have waived UCSHIP
Laboratory Tests
COVID Antibody Testing $47
COVID PCR - Medically Necessary $0
COVID PCR - Not Medically Necessary $0
BruinCare
Currently registered UCLA students who have waived UCSHIP and bought BruinCare to get unlimited access to core services during the academic year
Laboratory Tests
COVID Antibody Testing $47
COVID PCR - Medically Necessary $0
COVID PCR - Not Medically Necessary $0
Fee for Service
Students from other UC campuses or UCLA students who are not currently registered, such as during summer session or who were registered in a recent term
Laboratory Tests
COVID Antibody Testing $47
COVID PCR - Medically Necessary $0
COVID PCR - Not Medically Necessary $0