The Ashe Center is offers Telehealth Visits with Ashe Center providers, log into the Patient Portal to schedule now.
The Ashe Center is dedicated to making our services more accessible to patients outside Los Angeles or anywhere else around the world.
Instead of coming to see providers in person for an exam, consultation, or follow-up appointment, you can connect with your PCP using a HIPAA-compliant version of Zoom on your mobile device, tablet or computer. The information is securely transmitted and is treated the same way it would be if you were meeting with your provider in person.
Scheduling
​​​​Private Space Reservations
Need a private space to attend your telehealth visit your Ashe Center provider? Private spaces are now available by reservation thanks to our partnership with UCLA Housing and Residential Life. Here's how it works:
Schedule your telehealth appointment online (using the Patient Portal) or by calling The Ashe Center main line (310-825-4073, Option 1).
Our Scheduling Team can reserve a private space for you at Covel Commons on The HIll to attend your telehealth appointment.
Questions? Call us and speak to The Ashe Center Scheduling team by phone.
Location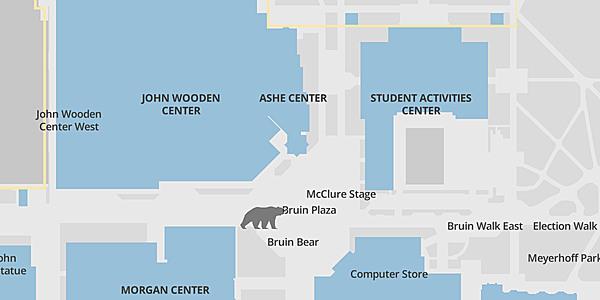 Fees
Patients eligible to be seen are current students, past students of the most previous academic term, and other UC campus students.
UCSHIP
Currently registered UCLA students
Visits
Dietitian Telehealth Visits $0
Physical Therapy Visit - Telehealth $15
Specialist Visit - Telehealth $0
Primary Care Visit - Telehealth $0
Waived UCSHIP
Currently registered UCLA students who have waived UCSHIP
Visits
Dietitian Telehealth Visits $49
Physical Therapy Visit - Telehealth $180
Specialist Visit - Telehealth $72-507
Primary Care Visit - Telehealth $49
BruinCare
Currently registered UCLA students who have waived UCSHIP and bought BruinCare to get unlimited access to core services during the academic year
Visits
Dietitian Telehealth Visits $0
Physical Therapy Visit - Telehealth $180
Specialist Visit - Telehealth $40
Primary Care Visit - Telehealth $0
Fee for Service
Students from other UC campuses or UCLA students who are not currently registered, such as during summer session or who were registered in a recent term
Visits
Dietitian Telehealth Visits $49
Physical Therapy Visit - Telehealth $180
Specialist Visit - Telehealth $72-507
Primary Care Visit - Telehealth $49